Jacket Orders Are Now Being Taken
Thank you to all the CLOK members who submitted expressions of interest in the new club jackets.
We now have a design and a final shortlist of jackets available to buy, and the online ordering system is now open.
Note: The order form will open in a new tab so that you can switch back to this page to check the information about the jackets while you're filling in the form.
Orders will close at midnight on Sunday 9th February 2020.
The jackets on the final shortlist are:-
| | |
| --- | --- |
| >> | Noname Training Jacket – Unisex (UX) |
| >> | Noname Training Jacket – Women's (WO) |
| >> | Oland Sport Softshell Jacket – Men's sizes |
| >> | Oland Sport Softshell Jacket – Women's sizes |
Further information about these jackets is below.
The Noname Training Jacket UX is available in the following sizes: 130cm, 150cm, XS, S, M, L, XL, XXL, XXXL
The Noname Training Jacket WO is available in the following sizes: XXS, XS, S, M, L, XL
If you didn't get a chance to try on the sample jackets, you can refer to these Noname size charts.
The Oland Sport Softshell Jacket is available in the following Men's sizes: S, M, L, XL, XXL, XXXL
and the following Women's sizes: XS, S, M, L, XL, XXL
If you didn't get a chance to try on the sample jackets, you can refer to these Oland Sport size charts.
---
Prices and Payment
The subsidised prices are as follows:
| Jacket | Juniors | Seniors |
| --- | --- | --- |
| Noname Training Jacket | £18 | £33 |
| Oland Sport Softshell Jacket | £12 | £27 |
Each CLOK member can buy one jacket at the subsidised price. You are very welcome to buy more than one jacket, but you will only get one subsidy. The unsubsidised prices are:
| | |
| --- | --- |
| Noname Training Jacket: | £53 |
| Oland Sport Softshell Jacket: | £47 |
We'll sort out payments once the jackets have arrived.
---
The Design
A huge "thank you" to Livi Wright for coming up with the design, which is illustrated below.
Notes
1.
The silhouette landscape around the bottom part of the jacket incorporates the transporter bridge (Middlesbrough), Guisborough Priory, Roseberry Topping, Danby Beacon, Whitby Abbey and the Infinity Bridge (Stockton).
2.
The pictures show the design on the Noname Training Jacket. The design on the Oland Sport Softshell Jacket will be very similar.
3.
There will be some minor modifications to the design to match the colours with CLOK's existing O-tops and to get the Noname and Oland Sport jackets to look as similar as possible.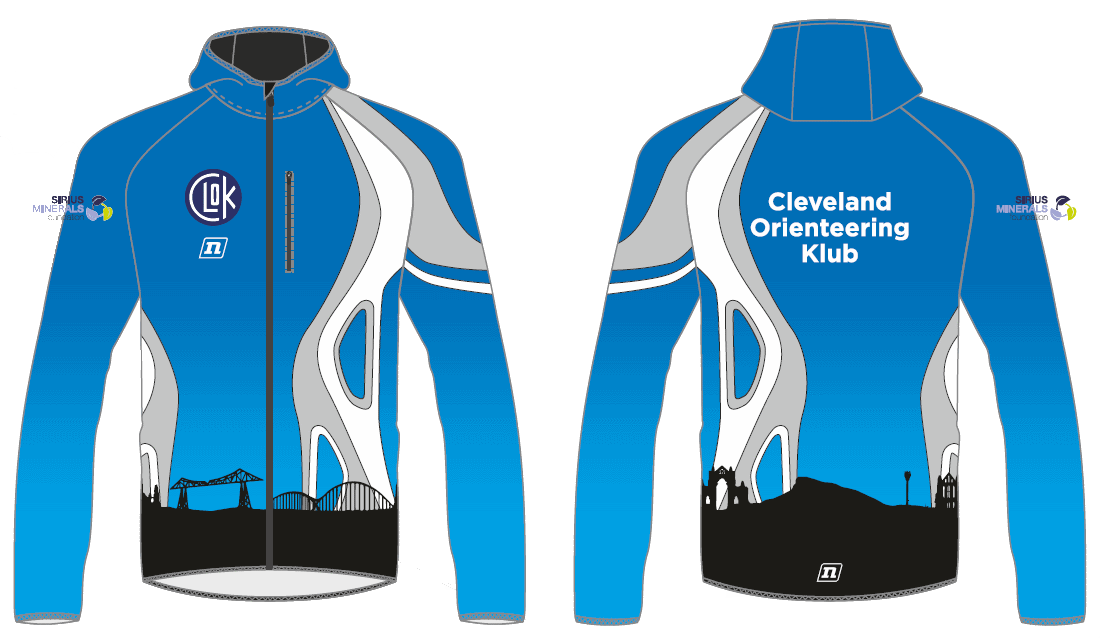 ---
The Jackets
The following jackets are available to order:-
Noname Training Jacket

Versatile jacket for training, casual wear and representation. Elastic, light and comfortable micro stretch fabric with a durable water resistant (DWR) treatment. The jacket has a modern regular fit, chest pocket and a hood with mesh lining to protect against rough weather.

Message from Noname

When selecting a jacket, please remember that while price is an important consideration, equally important is what you get for that price. Noname takes pride in providing high quality clothing and is committed to giving something back to the British orienteering community by supporting individual runners and the GB national squad. We also aim to maintain high ethical and environmental standards throughout our business. So, Noname may not always be the cheapest option, but but we would suggest that, overall, our orienteering clothing represents excellent value for the price.




Unisex training jacket




Women's training jacket


Oland Sports Softshell Jacket

Three-layer softshell fabric. The outer layer shields from rain. The middle layer – a polyester membrane – gives additional protection, while its perforated surface carries out the sweat perfectly. The inner layer is a knitted material that keeps the wearer warm.

Message from Oland Sport

We at Oland rely on quality and interesting design for each team we work for. We work with teams from more than 30 countries and we are correct and we respect the deadlines.
---
Background
The Sirius Minerals Foundation has given us a grant of £1,000 to help to buy club jackets for CLOK members.
If you have travelled to high-profile events such as the JK, the World Masters Orienteering Championships and the O-Ringen, you will have seen members of other clubs – particularly those from Scandinavia – wearing customised club jackets in the Assembly Areas. This looks very smart, generates a sense of club identity and gives club members a real sense of belonging to a team.
The plan is to use the grant funding to enable CLOK members to buy customised club jackets at subsidised prices.
We have had discussions with two manufacturers – Noname and Oland Sports (formerly Siven) – who have offered to supply us with jackets at discounted prices, subject to minimum order numbers.
The jackets will be printed with a customised design in the CLOK club colours. They will also include the Sirius Minerals logo in recognition of the grant support.
---
Contact
If you have any questions please contact Caroline Mackenzie via 07973-870529.
Click here to go to the main CLOK members' area page.