Each week the club runs a virtual orienteering challenge. Once you have completed 25 virtual challenges you will receive one free entry to a CLOK local event. To have your challenge counted you must complete it and upload your result publicly in the stated time frame.
This Week's Challenge
TdM #15 Darlington Central Short.
Dates: Monday 16th May – Sunday 27th May
King of the Hills Leg: 5-6
Sprint Specialist Leg: 10-11
You can print the map for this challenge or access it from your phone.
Find the event in MapRun by selecting events then UK > Country Durham > Darlington > Darlington Central VOC1 Short.
Full Darlington Central MapRun information can be found here.
Results: Auto-uploaded via the app – please make your result public in order for it to count in the league.
Le Tour de MapRun Challenges
Throughout the year we run a Tour de France style league within our virtual challenges. The league has 21 stages, of which each MapRun Virtual Orienteering Course has 5 nominated awards that count for league points as detailed below.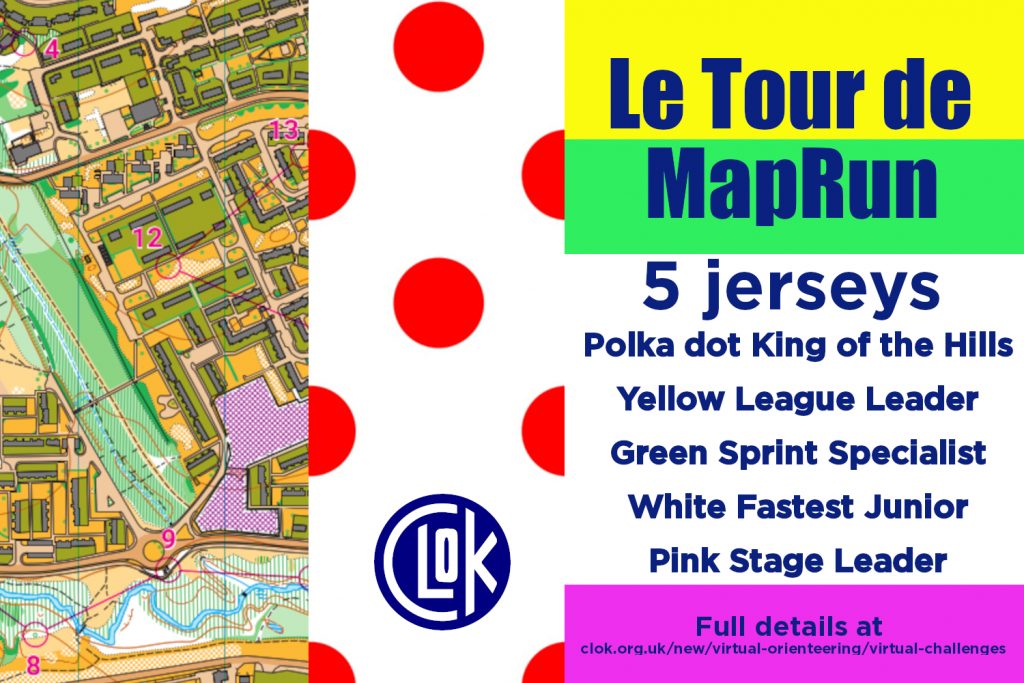 Under 16's must be accompanied by an adult on all CLOK MapRun courses.
TdMapRun Leader Board
As of TdM 12 Newton Aycliffe Long (we havent had any finnishers in TdM 13-14)
| | |
| --- | --- |
| Polka Dot | Dave Riches |
| Yellow | Viv Murphy |
| Green | Dave Riches |
| White | – |
| Pink | Dave Riches |