You are invited to a coaching session for the North East Junior Squad and senior/junior members of CLOK (and neighbouring club members also welcome!). Please register via Racesignup if you plan to attend.
Location: Wilton & Lazenby Woods
Date: Saturday 21st January 2023
Time: 10am – 1pm
Parking: This is now confirmed – we can park at Wilton Golf Club car park. Access is from the A174 near Wilton Site. The postcode is TS10 4QY and the What3words reference is ///snaps.script.desire. Please park in the lower level part of the car park.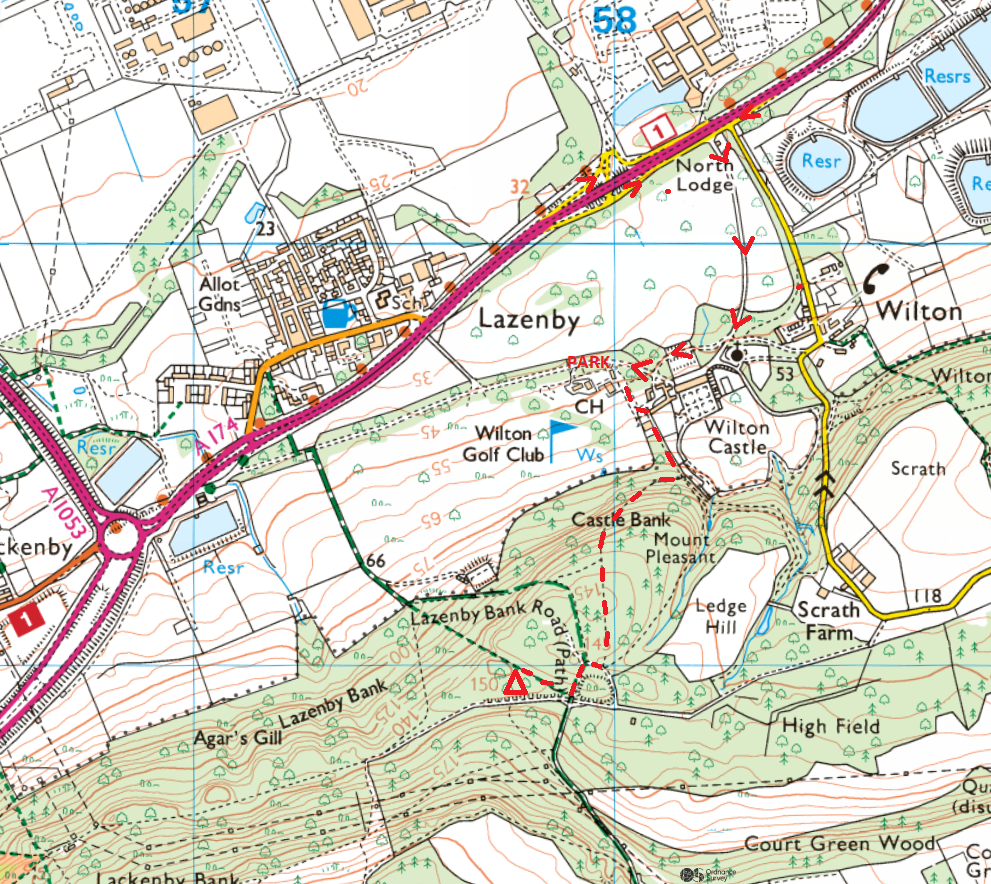 Coaching: We will leave as a group from the car park at 10am sharp. Please arrive in good time to get changed and ready to head up the hill at 10am. If you are late and we have left, there will be a couple of maps on the windscreen of Duncan's car (blue Ford Focus) and you can take one to see where the start is, as well as the map above to get from the car park onto the O map. 1km with 100m climb from car park to start of the exercises. Bring up anything you might wish to keep dry/warm for the walk up and/or standing around between exercises (e.g. jumper, jacket) and any drinks bottle / snacks you might want. There will always be someone at the start/finish to keep an eye on stuff, to brief you on exercises, and to talk about how they went when you get back.
There are three training loops on offer as follows. And since it is only training, you are free to click on the links to browse them beforehand, and think about how can get the most out of them!
Contouring – Focus on navigating between controls at the same height up the slope (conveniently placed on one index contour going out, and another coming back). The skill is in maintaining a constant height on the slope.
Slopes – Focus on navigating between controls at different heights on the slope. The skill is in judging how steeply to go up/down between controls.
Detail – Focus on identifying a clear attack point, then reading the finer detail as you move into the control site, and knowing what your catching/collecting feature is that will tell you if you have gone off track (too far or off to one side).
All three loops are 2km long. All start and finish at a central point up in the woods (where you can leave kit / snacks). Technical difficulty 4-5 (light green or green standard). All go generally along the slope and back, so you can easily cut them short by missing the more distant controls (e.g. if you want to practice a bit of each technique but without running a fully 6km!). You can also do them in either direction (and some people going one way, some the other, will reduce the following / distraction from others, and allow you to get more out of the exercises). Do as much or as little as you like!
There will be a sign in/out sheet at the start/finish so we know who is out on which loop. Please note against your name when you go out on a loop, and cross off when you get back, so we know who is still out near the end. You can do as much or as little as you like, and we'll continue until ~1pm (but you can leave earlier if you need to).
Controls will be small 10x10x10cm training kites (to make sure you are accurate!) and hung on a branch or stick in the ground. No electronic punching or timing. No control codes on kites.
Cost: £2 seniors, £1 juniors and full time students
Map: 1:7,500 scale, 5m contours, updated by Paul Taylor in 2022. Control descriptions on the maps (no loose copies).
Registration: Please complete the sign up form on Racesignup here if you plan to attend to give us an idea of numbers.
Facilities: We have permission to use the toilets in the golf club. Just inside the front doors. No muddy shoes inside please.
Our use of the parking and toilets is in return for supporting the golf club, by some of us taking advantage of their bar/cafe after the training, where they serve hot and cold drinks refreshments ranging from sandwiches to meals. See their menu here (we can order off the "lite bites and sandwiches" section – not the "mains" as they expect to be busy on a Saturday and would have needed ordering in advance). Please support them after the training if you are able! Please get changed before going in (not in your O kit still!) and no eating your own packed lunch in there.
Coach: Duncan Archer (CLOK), 07949 565855, duncan.archer77@gmail.com

Safety: A comprehensive risk assessment will have been carried out by the Coach, but please remember that competitors take part at their own risk. Orienteering is an adventure sport – your safety while orienteering is your own responsibility. Please make sure that you report back to the start/finish of the exercises even if you do not complete them. You must carry a whistle while participating in this training. If you have a relevant medical condition, please let the Coach know on the day. Any information provided will be treated in strict confidence and will only be used if you need medical treatment and are unable to communicate at the time.