CLOK has created a number of Virtual Running Routes (VRRs) in the Cleveland area. These use a smartphone app to guide runners, joggers and walkers round pre-planned routes in towns, parks, nature reserves, etc.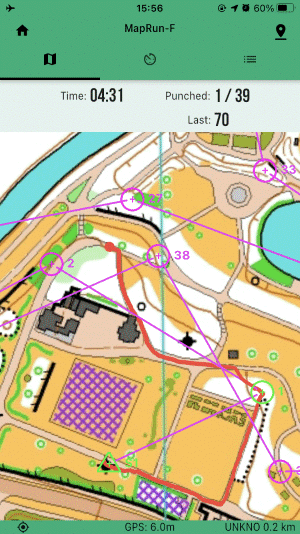 How it works
>>
Each route is defined by a sequence of checkpoint locations that have to be visited in a specified order.
>>
The smartphone app (MapRunF) displays a detailed map showing the checkpoint locations and the order in which they are to be visited, and uses your phone's GPS to track your progress around the route.
>>
When you get sufficiently close to a checkpoint your phone buzzes to notify you that you have successfully visited that checkpoint.
>>
The app also displays a "trail" showing you where you are (and how you've got there), so if you take a wrong turn it's easy to work out where you've gone wrong and how to get back on the right track.
>>
In the screenshot on the right:

The runner's trail is shown in red.
The green circle at checkpoint #1 shows that the runner has visited that checkpoint.
The purple circle at checkpoint #2 shows that the runner has still to visit that checkpoint.
The purple lines between the checkpoints are just to help you see the sequence in which the checkpoints need to be visited. You don't have to run along the lines.

>>
You can choose your own route between the checkpoints. Identifying the best route is part of the challenge.
>>
After you've visited all the checkpoints your phone uploads your time and trail to the MapRunner web site, so you can see how you've done relative to other people. You can also see which routes other people have taken between checkpoints, so you can learn which sorts of routes work best and improve your performance on your next attempt.
>>
You don't need to run if you don't want to. You can walk round a route, and you can even stop off somewhere along the way for a rest or a coffee (but if you do this then don't expect to be near the top of the leader board).
Getting started
You need to install the MapRunF on your smartphone. Follow this link for more information.
For details about a particular Virtual Running Route including how to find the start of the route, where to park, etc., click on the relevant link in the table below.
If you need any more information, or if you'd like a chat about Virtual Running Routes, contact Caroline Mackenzie via 07973-870529.
Virtual Running Routes
Here's a list of the routes available at the moment. More will be coming soon.
Location
Length(s)
Type of terrain
Darlington
6.2 km
Urban.
South Park, Darlington
5.2 km
Parkland and urban.
South Burdon Wood, east of Darlington
5.7 km
Community forest.
Not yet fully grown.
Sedgefield
3.3 km, 4.6 km
5.3 km and 6.4 km
Urban.
Newham Grange, Stockton-on-Tees
3.7 km
Urban and parkland.
South Burdon Wood, east of Darlington
5.7 km
Community forest.
Not yet fully grown.
Tees Barrage, Stockton-on-Tees
1.2 km and 2.9 km
Parkland, university campus and urban.
Please note that the route lengths are measured in straight lines between the checkpoints. Unless you can leap over tall buildings in a single bound, you'll actually run about 30% - 50% further than the quoted distance.
Safety
Please:-
Use a "buddy system" so that someone knows where you've gone and when you should return.
Wear high visibility / reflective clothing (e.g. a high-viz vest, reflective armbands or something similar) if you're running in an urban area after dark or in gloomy conditions.
Be courteous to other people in the area.
Comply with Government guidance on social distancing.
Take care crossing roads.
Anyone under 16 years old should only do an urban Virtual Running Route if accompanied by an adult.
Questions?
Contact Caroline Mackenzie via 07973-870529.
You can use this link to go back to the CLOK web site home page.