Follow this link for an introduction to Virtual Running Routes.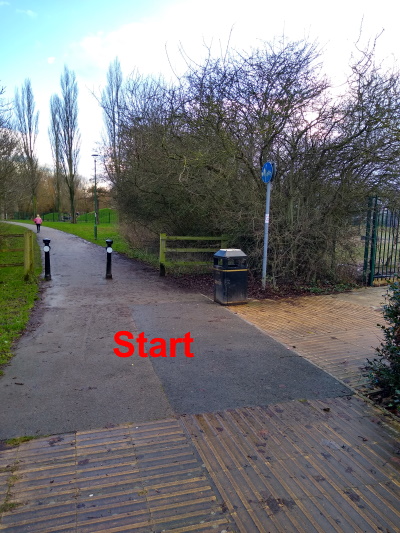 Location
The Start is at the path 'T' junction just south-east of the White Heifer That Travelled pub / restaurant, which is west of the A68 in the northern part of Darlington. The postcode is DL2 2GL and the What3words reference is ///grape.safety.bunch
Click on the link to see a map. You can zoom in (and, optionally, switch to Satellite mode) to see the details of the final approach to the event. You can also get directions if you put in your starting location.
You should be able to park in the Aldi car park or the M&S car park. Both are a short distance north of the White Heifer That Travelled.
The Route
In the MapRun6 app, Select Event and navigate to UK / County Durham / Darlington / Darlington NW VRR1.
You can also view a printable image of the route map.
Terrain
The route takes you along paths and tracks through quiet residential areas in the north-west part of Darlington. The area is mainly flat, although you'll encounter some hills in West Park.
Please take care crossing roads.
Measured along straight lines between the checkpoints, the route is 6.2 km. However, unless you can leap over tall buildings in a single bound, you'll actually run about 20% - 30% further than that.
Results
You can access the results via the MapRun Console. Open the menu (three horizontal lines at the top left hand corner of the window), select Leader Board and then filter by Darlington.
Facilities
There are no public toilets in this area, so please make your own arrangements beforehand. There are customer toilets in Aldi.
Safety
Please:-
Use a "buddy system" so that someone knows where you've gone and when you should return.
Wear high visibility / reflective clothing (e.g. a high-viz vest, reflective armbands or something similar) if you're running after dark or in gloomy conditions.
Be courteous to other people in the area.
Comply with Government guidance on social distancing.
Take care crossing roads.
Anyone under 16 years old should only do this Virtual Running Route if accompanied by an adult.
Any questions?
Contact Caroline Mackenzie via 07973-870529.
Go to the CLOK home page