So you have found out about orienteering and want to give it a go. Maybe you have done a Permanent Orienteering Course and now want to try a real event. This page will help you get yourself to the start line and then you can head over to Completing a Course.
Choosing an event
Events come in many shapes and sizes. Firstly, different types of terrain, for example:
Traditional orienteering events take place in forests or open moorland.
Urban or sprint events are gaining popularity and take place in built up areas or parkland.
Secondly, the size of the event, ranging from small local events attracting a couple of dozen participants to major UK events with up to 3000 competitors.
Thirdly, the general length of the courses.
At a long or classic event the winners on the top courses might take 60-75 minutes, on some of the shorter course maybe 45 minutes, and novice courses are shorter than that. Such events can either be in the forest or urban areas.
At a middle distance event – typically in the forest – the winning time is 30-35 minutes.
At a sprint event – held in an urban or parkland setting – the winning time is 12-15 minutes.
Lastly, the nature of the course:
The most common is a linear course which has a sequence of controls or checkpoints, all of which must be visited, in the prescribed order, and the results are determined by time taken. Of course you are welcome as a beginner to take as long as you like (within reason – watch out for the "courses close" time!).
At a score event there are a number of controls to choose from, and you have a time limit to visit as many as you can, in any order. The controls have points values (maybe all the same, or sometimes harder / further controls are worth more) and the results are determined by number of points gained. There will be penalty points deducted if you return after the time limit.
The above are both individual competitions where you compete on your own, although as a novice you may go round in a pair. There are also club relay competitions where you typically compete in a team of three, with one runner going out first, before changing over to the next, and then the last.
CLOK holds various types of events:
About once a month on a Sunday morning we usually have a long or middle distance event, with linear courses, either in forest or moorland or an urban event. These events attract around 100 competitors from the club and neighbouring areas.
Between around April to July each year we have a summer series on midweek evenings once a fortnight. These events are usually middle distance in length, linear courses, in local forests or parkland.
Between around September to December each year we have an autumn series on Saturday mornings once a fortnight. These events are usually shorter in length and more often in parkland or urban sprint settings.
We also have occasional one-off events, for example score events.
To find your next adventure, check out the CLOK Future Events page or the British Orienteering event listing. All events will have a "flyer" on the club's website which gives more detail about the event, including location, nature of the event, courses available, etc.
Choosing a course
Most events will have a range of courses. Traditional forest or moorland events often have colour coded courses. The colours given an indication of the length and difficulty of the course.
White – Very easy, all along paths, controls at every junction, 1-2km in length.
Yellow – Easy, all along paths or other "line" features like streams and fences, controls every 300m or so, 2-3km in length.
Orange – Medium, mostly along line features, but may leave the path to obvious control points or cut the corner, 2.5-4km in length.
Light green – Intermediate, frequently leaving paths and line features to visit control points, but any mistakes can usually be limited by features nearby to relocate on.
Short Green, Green, Blue, Brown, Black – Advanced courses of increasing length. Control points and routes between them are as technically challenging as they can be in the given area, and it pays to stay in close contact with the map to avoid losing time. The different colour courses might range from 3 to 12km in length.
At colour coded events, white and yellow courses are suitable for young children taking their first steps in orienteering. Orange courses are often suitable for adults doing their first event.
Local sprint or short race events often have a more limit range of courses, for example:
Open
Vet 55+
Youth 18-
Junior 14-
Here there is usually limited navigational difficulty, and the challenge is more about making quick decisions and moving fast! But beginners can just enter the course appropriate to their age and take their time completing it.
Entering the event
Most events since the Covid pandemic now require you to "pre-enter" via an online system. CLOK uses Racesignup as its entry system, although at neighbouring clubs you may also encounter the SiEntries and Fabian4 systems. In Racesignup and SiEntries you have to first create an account, and then you can select an event to enter. The entry system will ask you for personal details, and then event specific questions including which course you want to enter, and what time you'd like to start.
Orienteering typically uses a "time trial" format, with competitors starting at different times, to reduce the opportunity for following (although some "mass start" competitions do exist). At most local and regional events you have a choice of 15 minute start blocks which you select when entering, and then you start at some point in that window, as directed by the start officials. At larger events you will have a specific allocated start time.
Future events may return to allowing "entry on the day" (EOD) in which case you do not need to pre-enter and can just turn up, and head to the "registration" tent to sign up and pay for your course.
Electronic punching
Orienteering uses electronic punching systems to confirm that you have visited all the controls, by way of a electronic chip that is registered at each control and downloaded after the finish. See more detail in Completing a Course. The most common system widely used in the UK is SPORTident. Competitors carry an "SI-card" and at each control register with the "SI station" like those shown below. Most regular orienteers will have their own SI-card and provide the number when they enter an event. However, most events can lend one for the event and you can indicate if you need this when entering.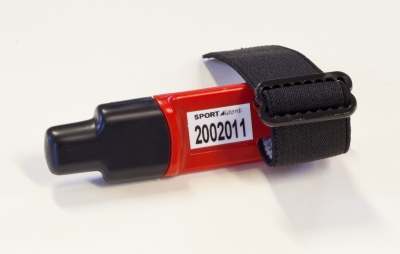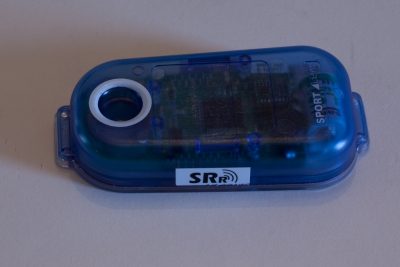 What to bring / what to wear
For your first event, you can wear whatever you feel comfortable in. However, for events in forest and moorland areas you must have full leg cover (not shorts). Wear an appropriate amount of clothing for the weather, the speed you expect to be moving at, and how warm you anticipate getting. Wear good walking shoes or trainers with a decent grip. As you get more experienced you might want a pair of fell shoes or specialist orienteering shows that have a rubber studded sole.
In terms of equipment, bring a compass if you have one (although for the easiest beginner courses you can get away without), and your SI-card unless you are hiring one. CLOK recommends you carry a whistle to attract attention in case of emergency (for example serious injury).
Otherwise you just need yourself and your sense of adventure!
Attending the event
All events will have a "flyer" on the club's website which gives more detail about the event, including exact location and directions, range and length of courses, timings, and anything unusual to be aware of when attending.
If you have pre-entered, with an allocated start time or a selected start block, and have your own SI-card, you can turn up at the event and proceed straight to start when you are ready, in time for your start time/block. Don't forget to take what ever you need, including a compass if you have one and your SI-card.
If you don't have your own SI-card and are hiring one, head to the registration / download tent (it should be obvious!) where you can pick up your hired SI-card.
If you are unsure and want some advice at the event, there will usually be someone from the local club on hand at the registration / download tent who will be happy to help.
Now you've made it to the event, you can check out Completing a Course!